Because sex in the tent is not only romantic, but also quite public.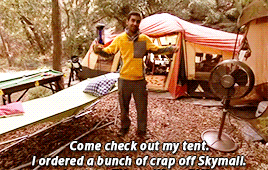 Mah fine: Far away, in the fresh air and under the starry sky – sex while camping is (at least in the imagination) extremely great. The thing is: a lot of other people think that, too – especially this year, where vacation is already on the program at home.
Therefore, there is a little something to consider, so it works with cuddling in the tent:
Pack a big tent.
Yes, camping equipment should always be as light as possible, but the tent is the wrong place to save weight. A 2-person tent means something like "Two people can slip into this tent, who sleep through the night in exactly one position and never want to move". If you want to have it really cozy for two and not only store your luggage but also your luggage dry (and cuddle extensively in the evening), it is best to take a 4-person tent with you.
Make yourself a little cozy.
You do not have to win a Pinterest contest with the interior design of your tent, but the evening hours are all the finer if your equipment gives a bit more than insulating mats. If you don't want to take an (inflatable) mattress with you, you can simply unzip your two sleeping bags and use one as a pad and the other to cover – this makes cuddling better!
Pssst!
Loud and wild and uninhibited, you imagine it, the camping sex. But if you are on an official campsite and not on a completely secluded place, remember: Just because nobody can see you does not mean that the tent walls are soundproof. What helps: Turn up a bit of music that drowns out your background noise – or simply choose positions in which you can silence the other with kisses.
Light off!
Speaking of which nobody can see you. That only applies if you switch off various headlamps, cell phones and flashlights completely, right?
Preparation is everything.
Before you get down to business, you should also think about the afterwards – and above all the mess situation. Don't forget that you have enough handkerchiefs and running water at hand, that is: pack wet wipes or (if your partner has a penis) it is best to use a condom!
Happy spooning!
Even if your tent is big enough, there are still a few logistical challenges when having sex in the tent: the uneven ground, the (still) limited space, the noise level. What we want to say: Camping may not be the best time and place for sex experiment such as trying anal sex for the first time – stick to spooning and the like.